Neuffer's modern entry doors deliver exceptional beauty and make an eye-catching first impression. Time-tested German craftsmanship, the finest hardware and a huge range of options ensure we can design a bespoke solution that seamlessly integrates into your facade. Our premium doors are available in timber, aluminium, aluminium clad timber and uPVC and designed to meet the most stringent design and thermal performance requirements.
Front Door Systems
Ornamental Glazing Options



Door Handle Types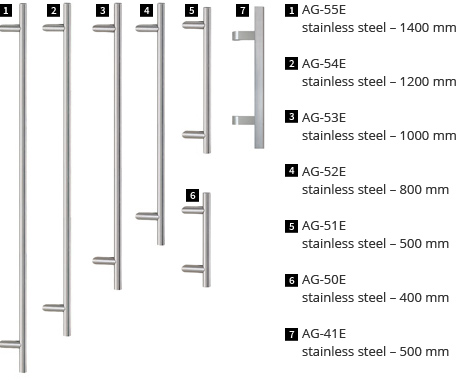 Aluminium Front Doors
Aluminium systems are not just aesthetically pleasing, they are also very robust. Furthermore, 91 mm metal components improve the burglary protection. The profiles are warp resistant and allow tight seals and proper function even at high temperatures, while thin premium steel frames hold the glass inserts in place.
It is also possible to select between various types of glass inserts. Besides insulation and sound protection glass, you can also choose from a variety of ornamented glass. The different surfaces of ornamented or structured glass provide unique aesthetics, creating a measure of privacy protection at the same time. Aluminium doors are available in various versions, differing in terms of density of the filling material and standardised features.
uPVC Front Doors
UPVC elements impress with their low pricing and excellent values for thermal insulation. Building owners have been concerned about building energy efficient houses long before the Europeean regulation for energy savings was introduced. Aside from windows and walls, front doors are naturally an important aspect of regulation compliance.
uPVC is not just affordable, it can also be processed easily. Various door sizes and forms are not a problem for modern uPVC elements. The material also allows multi-chamber systems, assuring excellent thermal insulation values.
Integrated steel profiles and solid edge weld joints improve burglary protection. uPVC casements are also available with full security features, including triple locks and solid triple hinges.
Wooden Front Doors
Wooden front entrances are aesthetically pleasing through their wooden material. They insulate heat naturally and can be personalised with different colours. Burglary protection is granted via its robust wooden structure and stabilising steel inserts. High quality hinges as locks complete the element.
Wooden front doors combine traditional and modern aspects. You can select between a large variety of wood types such as meranti, pine, larch and oak giving the door a unique touch.
---
The perfect Entrance for every Taste
Similar to windows, front doors have to meet several demands. Modern doors are able to convince with their innovative technology and modern materials which offer optimal function as well as perfect aesthetics. The following criteria are especially important:
Burglary protection
Thermal insulation
Sound insulation
Our range of accessories makes it possible to focus on several factors and combine them with the purchase of your front door. Full security equipment with triple locks can therefore be combined with thermally insulating doors.
Customize your entrance with colours from the entire RAL colour range.
Regardless of the respective fittings and accessories, you can select of a large variety of colours for you door. The uPVC material does not need to be plain white or aluminium silver coloured. Select a colour from the RAL colour range and easily customise your component.
---
Accessories for Front Doors
Handles and advanced locking systems are also possible front door accessories. Modern technological innovations are a substantial part of any door system. The traditional key is being replaced more and more. But what is the story behind these futuristic concepts?
Fingerprint Systems
Fingerprint systems improve the burglary protection of your house. They only allow people with a fingerprint on record to enter. Locks and respective keys are made obsolete and no longer constitute a burglary risk anymore. Aside from that, the daily search for the keys becomes unnecessary.
Handles
All doors can be manufactured with different fittings. Particularly products with premium steel feature very high-quality aesthetics. But this aspect can also be achieved with uPVC or brass fittings. Most building owners set a certain focus on handles in particular. Neuffer manufactures systems in many different versions. Exterior components can be distinguished into the following types:
Ball knob
Pull handle
Bow handle
Different lengths are available as well as various designs. For example, all materials can be ordered with flat or brushed surfaces.
High-quality Aesthetics for your House
Aesthetics are an important design aspect for front doors. Regardless of the material, you can choose between all colours of the RAL colour range and further decors. Enjoy the noble mahogany or traditional oak decor, or choose subtle anthracite from the colour range.
Personalise your construction components with the wide range of colours and decors.
Front doors can also be equipped with transom lights. These allow for more daylight to enter the rooms behind the entrance and create a welcoming atmosphere. Furthermore, it is possible to integrate a mailbox to the side panel. It is recommendable to integrate safety glass, to prevent burglary.